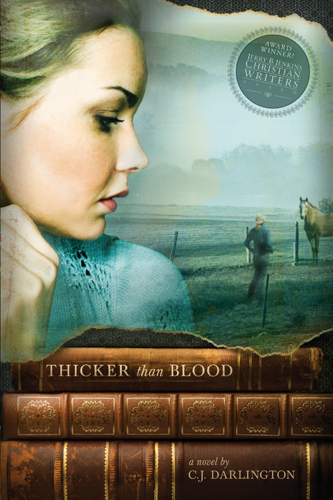 "Christy Williams didn't see the cop until his red lights flashed in her rearview mirror. By then it was too late. He was tailing her, and she had no choice but to ease her Honda Accord onto the snowy shoulder of the freeway and let the cruiser slide in behind."


~Opening lines in C.J. Darlington's
Thicker than Blood~

May Williams has not seen her older sister, Christy, in fifteen years after Christy ran away following their parents' deaths. May yearns to be reunited with her sister. But ashamed about the path her life has taken, Christy avoids her younger sister, too afraid that May will not accept her. As Christy faces a series of events that threaten her livelihood and life, including an accusation that she stole a first edition Hemingway book, Christy flees her home to the only place she feels she will be safe--May's ranch in Southern Colorado. But the two sisters soon must confront the deep pain and uncertainties each faces in their own lives and in their relationship.
Winner of the 2008 Jerry B. Jenkins Christian Writers Guild Operation First Novel,
Thicker than Blood
delivers a heartfelt story about forgiveness, God's grace, and second chances. Blending solid storytelling with an interesting cast of character, this story kept me turning the pages to find out what would happen, especially toward the end of the book with a couple of gripping action scenes. I also found the messages about God's grace to be refreshing and encouraging. I recommend this book to readers and look forward to future books from C.J. Darlington.
For more information about this book, please visit
Tyndale Houses Web site
.
Note:
I received a complimentary copy of this book from the author for the purpose of reviewing it.