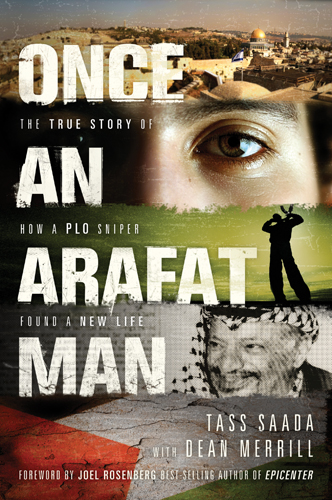 ". . . Jesus is our one hope of reconciliation in the here and now. He is the only one I can think of who holds the power, the moral authority, to bring us together. He is the antidote to mistrust and bitterness and resentment. He is the one who convinces an Arab like me that the Jews are not my enemies but rather my cousins, going back to Abraham's house."
~Excerpt from
Once an Arafat Man
by Tass Saada with Dean Merrill~
Once an Arafat Man
tells the story of Tass Saada, a Palestinian refugee who grew up in Saudi Arabia and Qatar in the 1950s and 1960s. From his experiences as a refugee, Tass learned to hate the Jews of Israel at a young age. When he was 17, he ran away from home to join Fatah and became a PLO sniper and chauffeur to Yasser Arafat. But years later while living in the United States, Tass converted to Christianity and the hatred he harbored for many years soon dissolved. This was the beginning of a new journey for Tass and his family, one focused on love, hope, and reconciliation.
This inspiring story deeply stirred my heart. I was moved by Tass's immense love for the Palestinians and Jews and his committment to reconciliation. He gives a unique perspective of the Palenstians and shows through the Bible how God blessed these people through Abraham's son, Ishmael, and how he deeply loves them still. Tass also gave me a profound understanding of what it means to be obedient to God's calling in our lives and God's faithfulness in providing what we need to fulfill His callings. Tass serves as a great example what it means to walk by faith.
I highly recommend this book to all readers.
For more information about this book, please visit
Tyndale's Web site.
Note:
I received a complimentary copy of this book from the publisher for the purpose of reviewing it.